The true wirelesss earbuds which are famously known as the True Wireless Stereo(TWS) earbuds picked up its pace and went main stream in 2020. In India, we are seeing a massive spike in the true wireless earbuds segment. As per the latest reports, TWS shipments grew by a whopping 723% YoY in Q3 2020 globally. 
Thanks to popular smartphones brands who have jumped into the true wireless earbuds segment in India, we're seeing a lot of demand for these tiny pair of earbuds in India. Although, the market is filled with budget TWS priced under Rs 5,000, there are certain earbuds that are priced above Rs 5,000 and offer better overall experience. 
Best TWS under Rs 10,000
1. Oppo Enco X
2. Lypertek Tevi
3. Samsung Galaxy Buds Plus
4. Sony WF-XB700
5. Realme Buds Air Pro
6. Oppo Enco W51
7. Jabra Elite 75t
8. Huawei FreeBuds 3i
9. Skullcandy Indy Evo
10. Soundcore Liberty Air 2
We have players from Realme, Xiaomi, Samsung, JBL among the top performers under Rs 10,000 segment. And, most recently, Sony joined the party with its extra bass TWS. As with the current situation, we can consider the Rs 10,000 TWS segment as the top tier segment if not the flagships. We are also now seeing the trend of active noise cancellation on TWS in this segment, which was unheard of previously. 
The TWS market started exploding when Apple's AirPods made its debut a couple of years ago. Of course, just like the other Apple products, the AirPods are also out of reach for many as they're priced pretty high. But, there are many other True Wireless Stereo (TWS) earbuds in the market currently. If you are looking for a good pair of TWS, you're at the right place. Check out our list of the best true wireless earbuds under Rs 10,000.
Image 1 of 7
Image 2 of 7
Image 3 of 7
Image 4 of 7
Image 5 of 7
Image 6 of 7
Image 7 of 7
The Oppo Enco X are yet another impressive audio product from the brand which is known for its smartphones. The presence of ANC is very effective and the sound quality is top-notch. The Oppo Enco X are an easy recommendation from our side. To offer better audio experience, Oppo has teamed up with Dynaudio, a brand which is one of the best in the business. The earphones are suitable for everyone including those who are hardcore audiophiles. 
The sound quality is excellent and the active noise cancellation is pretty effective and Oppo has added two noise cancellation levels which is pretty smart. There are plenty of controls available but there are some limitations when it comes to customization. While Oppo and Android users get some customization options, iPhone users won't get any options as such. 
The battery life is pretty average, especially when listening to music with ANC and volume set to 100%. There is no support for fast charging either but, you get wireless charging. Overall for the price and quality of the audio on the Oppo Enco X, it is hard not to recommend these. 
Check out Oppo Enco X on Flipkart
One of the newest entries to the TWS segment, Lypertek Tevi is one of the best value for money TWS currently available in India. It offers a neutral audiophile-like sound and comes in a pill-shaped charging case. It harnesses Bluetooth 5.0 and comes with IPX7 water-resistant rating to protect the buds from rain and sweat.  
The Lypertek Tevi features a 6mm graphene driver with SBC, AAC and aptX codecs, offering some of the most natural and well-balanced audio we've seen from a pair of earphones in recent times. It offers up to 10 hours of battery life in the buds, and a further six full charges housed in the case. 
The company has also launched a new TWS called the Lypertek Levi. It brings most of the Tevi goodness for just Rs 4,999
Check out the Lypertek Tevi on Amazon | Headphone Zone
Read our Lypertek Tevi true wireless earbuds review
Thanks to the recent price drop, the Samsung Galaxy Budsd Plus got way more affordable now in India. The Samsung Galaxy Buds Plus offer better sound quality and an extended battery life compared to last year's Samsung Galaxy Buds, but they're still missing advanced audio codec support and full-on noise cancellation. 
They offer better battery life, improved call audio thanks to a third internal microphone, and a new dual-driver design that uses two powerful drivers for better, clearer sound. On top of that, there's finally support for iOS through the new Samsung Galaxy Buds Plus app. The earbuds themselves contain 11 hours of charge, while the charging case provides an additional 11 hours, bringing the total battery life to 22 hours. 
Check out Samsung Galaxy Buds Plus on Amazon | Flipkart
Read our Samsung Galaxy Buds Plus review
Sony is the latest company to announce its TWS in India. The WF-XB700 comes under Extra Bass series so, you can expect deep and punchy bass. It features a 12mm driver unit and harnesses Bluetooth 5.0 and 12mm drivers. You get punchy, thumpy, and deep bass with this pair of earbuds. 
On the battery front, you get 9 hours of playback with an additional 9 house with the case. You can charge the case via Type-C port. These are IPX4 rated so, you get protection against the water splash and sweat. It comes with buttons on each bud which can be used to play, pause, or skip through tracks and adjust the volume. You also get a mic for voice calls and voice assistant. 
Buy on Sony WF-XB700 Amazon
Image 1 of 5
Image 2 of 5
Image 3 of 5
Image 4 of 5
Image 5 of 5
The Realme Buds Air Pro is one of the most affordable pair of true wireless earbuds that offer active noise cancellation. The ANC does a good job, though the overall sound quality is a mixed bag. Apart from that, the Realme Buds Air Pro is feature-packed and the companion app support makes it easy to use.
The mic quality is also quite good on the Realme Buds Air Pro. While the sound quality is not perfect on the Realme Buds Air Pro, you get a wonderful soundstage and the base is just like what most of the people in India like. For those who want more, Realme has also added Bass Booster+. The battery life is also pretty impressive both with ANC turned on and off. 
Check out Realme Buds Air Pro on Flipkart
Read our Realme Buds Air Pro review
Image 1 of 6
Image 2 of 6
Image 3 of 6
Image 4 of 6
Image 5 of 6
Image 6 of 6
While Oppo is primarily known for its smartphones, it was its audio products that surprised us the most in 2020. The Oppo Enco W51 are a solid pair of true wireless earphones under Rs 5,000, owing to the sheer number of features they sport. Along with that, they also offer excellent sound quality and respectable noise cancellation, which are rare at this price. Just be wary of the battery life and a potentially unreliable fit.
The biggest talking point is the inclusion of active noise cancellation, a feature that was previously reserved only for premium earphones. While not too powerful, it does the job as promised and cuts out distracting hums and other low-frequency sounds. The overall sound quality isn't bad either, striking a fine balance between clarity and enjoyment. If that wasn't enough, the buds are also IP54-rated for water-resistance and support wireless charging.
Check out Oppo Enco W51 on Flipkart | Amazon
Read our Oppo Enco W51 review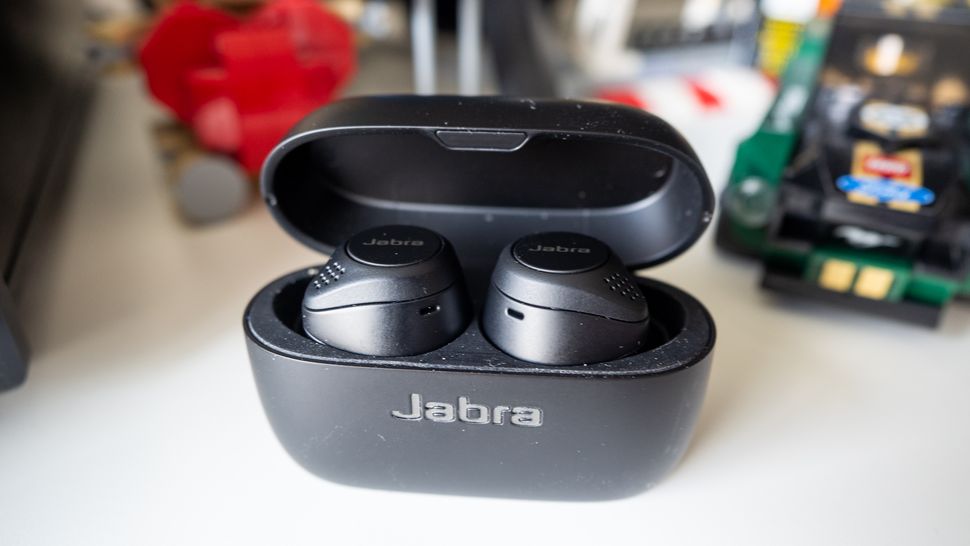 The Jabra Elite 75t improves upon its predecessor in just about every way, except tonal balance. The 75t offers much improved battery life, a much smaller charging case, and more comfortable fit but their bass is overwhelming… and not in a good way. While the EQ in Jabra's app fixes that, the EQ settings won't be saved if you're using them with a computer, making them compromised for any device that doesn't support Jabra's app.
The amount of bass impact the Elite 75t generates is incredible but it's also fatiguing. Although the Jabra Elite 75t does not have active noise cancellation, its passive noise isolation works very well. Battery life is excellent, with the headphones lasting around 7 hours on a single charge and the charging case is capable of topping the earbuds from flat for an additional 3 full charges. The fast charging feature is also nice when you need to top up in a pinch. 
Read out Jabra Elite 75t review
Check out Jabra Elite 75t on Amazon
Huawei FreeBuds 3i was launched for Rs 9,990 back in July 2020 but currently the earbuds are available for Rs 7,990. The Huawei FreeBuds 3i brings Active Noise Cancellation (ANC) which means all the external noise gets eliminated. The ANC works effectively. Weighing 5.5g each, the earpiece in FreeBuds 3i have in-ear style and the 51g charging case is rectangular in shape. 
As for the audio, the Huawei FreeBuds 3i, it has a 10mm dynamic driver unit with powerful bass. The Huawei FreeBuds offer battery life of 3.5 hours music on earbuds and 14.5 hours with charging case. Other features include Bluetooth 5.0, three mic, double tap, and long press controls. 
Check out Huawei FreeBuds 3i on Amazon
Skullcandy Indy Evo offers decent audio experience – the highs and lows are good while the bass is refined well so that you enjoy thumping effect. However, it can get a bit mushy at times sometimes. As for the fit, they are not comfortable for all as they come with ear hooks. Also, it's hard to fully close the carry case due to the fin design. 
The microphone quality is really good on this one and can be used for taking calls without having to take them off. It comes with a bunch of touch controls which are hard to memorize but once you get hold of that, you will enjoy it more. For audio listening, you get three modes – music, podcasts and movie. Another major issue is that the buds needed to be reconnected every time when you want to use the app. And, lastly, on a single charge, the Skullcandy Indy Evo lasts up to 5 hours, which is good for a TWS. 
Check out Skullcandy Indy Evo on Amazon
Anker's Soundcore Liberty Air 2 sports two Diamond-coated drivers that produce good sound quality over Bluetooth 5.0. There is no active noise cancellation onboard, but the TWS offers four mics featuring cVc 8.0 noise reduction technology to ensure that you are always audible clearly during the calls. 
The Soundcore app offers over 22 EQ settings and coupled with Hear ID, this app lets you personalize the music listening experience by creating a customized sound profile based on your preference. The earbuds offer up to 7 hours of playback time while the charging case offers additional 28 hours of mileage.
Best TWS under Rs 10,000 in India
| Product | Price |
| --- | --- |
| Oppo Enco X | Rs 9,990 |
| Lypertek Tevi | Rs 6,999 |
| Samsung Galaxy Buds Plus | Rs 8,990 |
| Sony WF-XB700 | Rs 6,990 |
| Realme Buds Air Pro | Rs 4,999 |
| Oppo Enco W51 | Rs 4,999 |
| Huawei FreeBuds 3i | Rs 7,990 |
| Skullcandy Indy Evo | Rs 6,499 |
| Soundcore Liberty Air 2 | Rs 6,999 |
These were our recommendation for the best true wireless earbuds under Rs 10,000 in India. Among the list of seven TWS earbuds, we've given options for gamers, bass lovers, music, and fitness freaks. You can opt for the one according to your need.